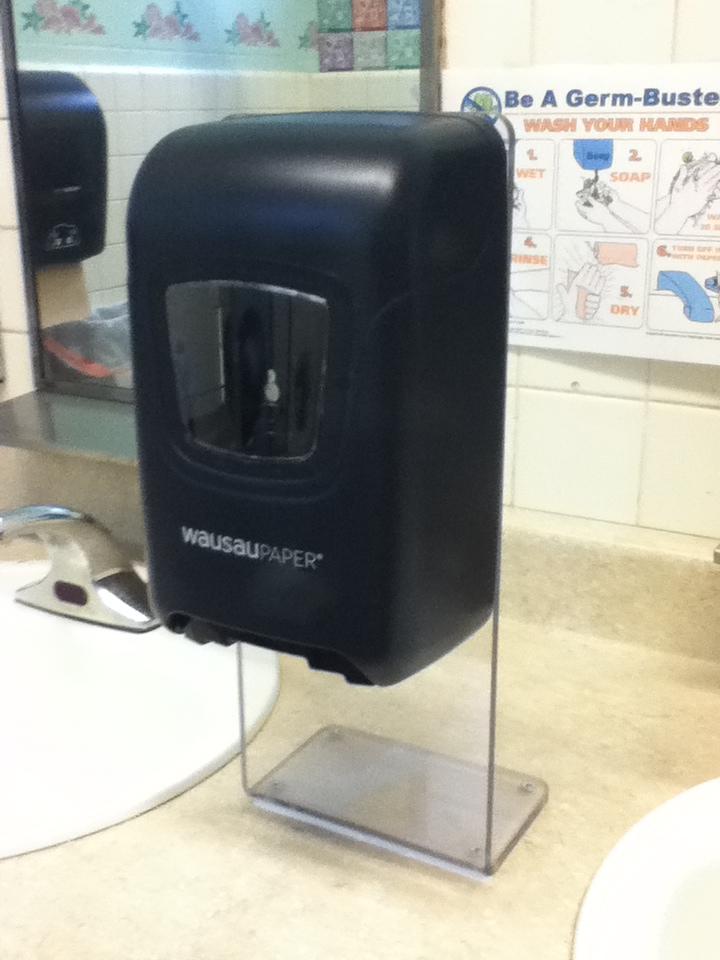 GBC Restroom Solutions
We are discovering that not all restrooms are alike. Sometimes we have to think outside the potty. Pre-schools are challenging, especially when you combine little people with grown up bathroom counters. This was the challenge at Navy Hale Keiki Preschool, little kids, a lowered sink, but a standard bathroom counter width. The kids could not reach soap dispensers on the wall!

After much discussions with the pre school staff, our team came up with the solution you see here. A custom bracket for our soap dispensers. Positioned close enough for the children to get to, water proof, and strong enough to withstand the daily curiosity of three year olds.
Are you ready to up date your restroom? Give us a call and see how we can save you time, money, and go green at the same time.
Our Wausau Green Seal certified products include 100% recycled paper towels and toilet tissue. The Green Seal Certification is the highest environmental standard available, and means that paper products are made with 100% recycled paper, and processed chlorine free. They meet or exceed EPA guidelines and are independently certified. Even manufacturing and packaging are certified green. Wausau soap products are also Green Seal Certified.
Better still, our paper and soap dispensers are designed to control use and lower maintenance time. We'll be happy to arrange a demonstration., to show you how we can save on your restroom costs.
Our dispensers are supplied and installed at no cost to you. They are unconditionally guaranteed. If you have any breakage or problems with our units, they will be replaced or repaired, period.
Call us to set up an appointment today, ask for Francis Duran or Carlson Mun.
Free Delivery!
One of the best deals in town is our free delivery offer. Order $100 or more and we deliver at no additional charge, to any business address on Oahu.

What if our delivery truck will not be in your area in the next few days? We send it to you, via UPS, on our dime.
GBC Boxes Packaging Hawaii, box, boxes hawaii, boxes, corrugated, jewelry, bags hawaii, bags, packing materials, packaging, moving, shipping, gbc, party supplies, air bubble, cushioning